University of Florida College of Dentistry-Hialeah
750 East 25 Street
Hialeah, FL - 33013

University of Florida College of Dentistry-Hialeah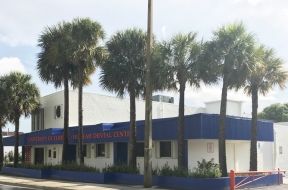 Opened in 1997, the Hialeah Dental Clinic averages 200 patients weekly providing comprehensive oral care to children, adults and senior citizens. Twelve dental residents enrolled at the clinic each year are actively engaged in providing all phases of dentistry, including: Diagnostic and preventive services Endodontics Periodontics Oral and maxillofacial surgery Restorative dentistry (including operative, fixed and removable prosthodontics and implant dentistry) Orthodontics Pediatric dentistry.
The students and residents provide dental care under the supervision of licensed dentists.
The Hialeah Dental Clinic has one full-time faculty member, several part-time faculty members and 50 volunteer dentists from the community. All provide continuous supervision of the residents in the clinic. Seven dental assistants provide support services to the dental residents and three administrative assistants provide clerical support to the office and program.
The Hialeah Dental Clinic is one of four college-owned satellite dental clinics in the Statewide Network for Community Oral Health at the University of Florida College of Dentistry.Dental Facilities & EquipmentThe spacious 7,500 square foot dental facility has: Twenty-two dental operatories, all of which are dedicated to patient care activities Dental laboratory Complete sterilization area Library/conference room with web access Ample study areas Administrative office space State of the art interactive distance learning technologyOn-site digital radiology services, surgical microscope, Cerec Console & Milling Station, Biolase EZ Lase, digital photographic equipment, rotary endodontic equipment, leading implant systems, Hu-Friedy cassette instrument systems and Kavo hand pieces are available for use during the program.
Patient PopulationIn 2007-2008, the Hialeah Dental Clinic provided nearly 5,000 patient visits that included insured and uninsured patients. The age distribution of clinic patients is approximately 13% children, 70% adult, and 17% senior citizens. Over 80 percent of the patients at the Hialeah Dental Clinic live at or below 200 percent of the federal poverty level.
The Hialeah Dental Center program has a long history of community involvement and partnerships with: The Miami Veterans Administration Medical Center, Jackson Memorial Hospital, The Miami Jewish Home and Hospital for the Aged, The Rafael Penalver Clinic, Camillus House, The Robert Morgan Dental Clinic Community, Smiles Dental Clinic, The Jackson Health System, Care-a-Van (CAV) programHialeah. Dental Center program faculty have served as South Florida District Dental Association's local coordinator for the national Give Kids a Smile dental access day since the inception of the program in 2002.In 2004 and again in 2009, Florida Dental Association and Project Dentists Care, Inc. recognized our faculty with the Distinguished Service Award. The award acknowledges volunteer dental efforts and commitment to the dental profession and to helping Florida's under served population.Accreditation.
The Hialeah Dental Clinic is fully accredited by the Commission on Dental Accreditation with the next site visit scheduled in June 2011.
The AEGD program received Commission on Dental Accreditation approval to embark on a 2-Year Advanced Education in General Dentistry Program for International Dentists which began on May 10, 2010. Twelve residents accepted positions for this unique and innovative program; the second class is slated to begin in May 2011.